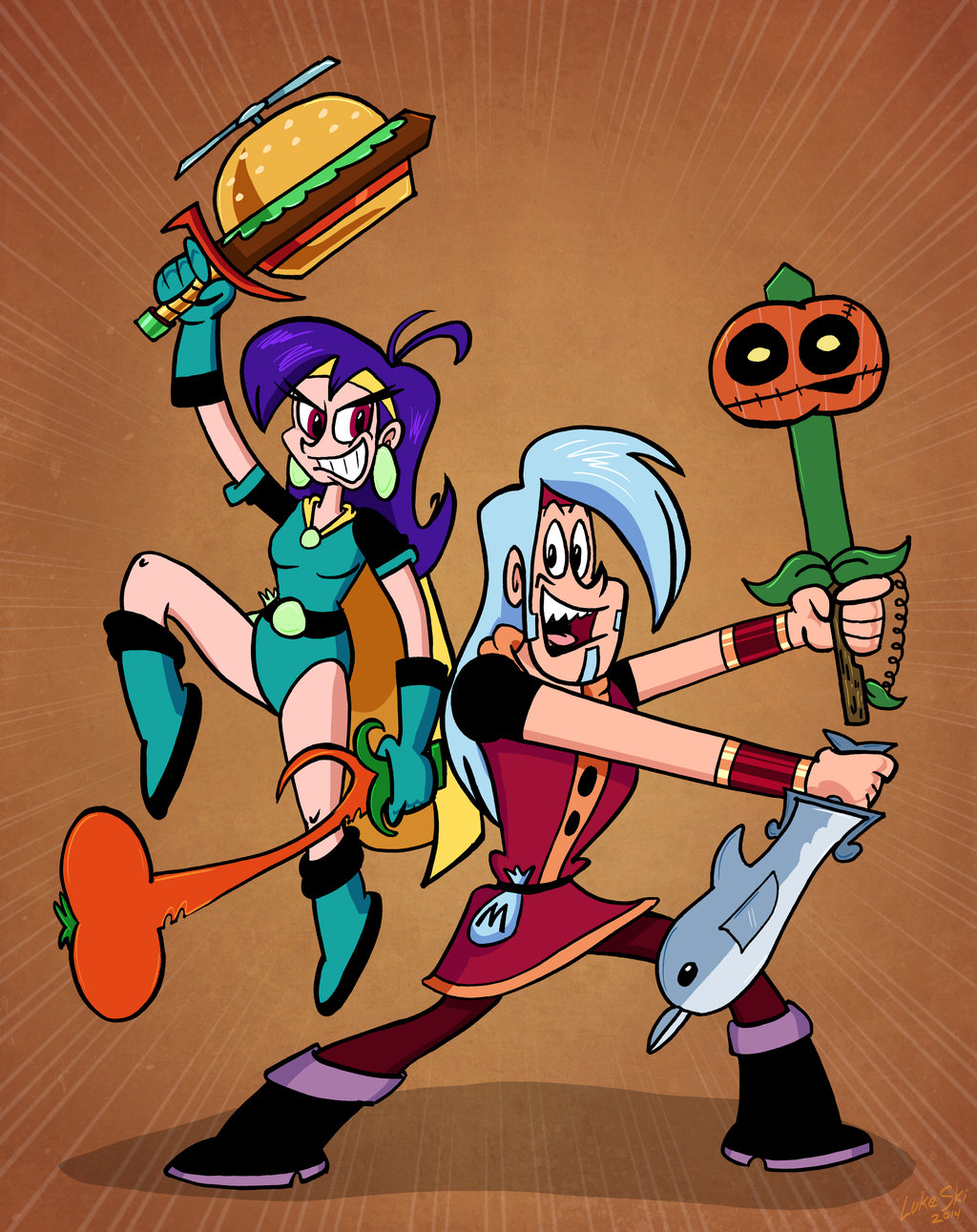 Freelance Cartooning & Art!
-
CARTOONING & OTHER ART: In my cartooning style, I've done numerous album covers, promotional ads, t-shirts, comic projects and much more. See the gallery below for examples of my work. My starting price is $100.00, and it will go up from there depending on how much time will be spent on the project, and how difficult and detailed it is. Email me at thegreatlukeski@gmail.com with a description of the project you're interested in having me do, and I'll get back to you with a price quote.
-
"MIGHTY MAGISWORDS" FAN ART AND O.C.s: I was a Storyboard Artist on Cartoon Network's "Mighty MagiSwords", as well as the voices of Skullivan, Cattus, Docky, and more! If you're a fan and would like me to whip up a piece of MagiSwords fan art for you with your favorite character(s), and/or would like me to draw your own Original Character, I would be happy to oblige. Again, my rates will depend on exactly what you want, how many characters, how much detail, etc., email a description to me at thegreatlukeski@gmail.com. Black and white pieces start at about $20, full color pieces start at about $50.
Payment in advance via PayPal,
Venmo, Cash App, or another method for freelance art.

To contact Luke Ski, email thegreatlukeski@gmail.com, or fill out this form below. Thanks for visiting!
Luke Sienkowski was encouraged to draw at a very early age by his mother Caroll, an art teacher. Inspired by comedy of Jim Henson, the wonder of Walt Disney, and the art styles of Charles Schulz and Matt Groening, he became a self-taught cartoonist, spending his teenage years drawing his own comic strips and comic book adventures.
Luke attended the four year fine arts college the Kansas City Art Institute where he received a Bachelor of Fine Arts Degree in Illustration. After spending a summer learning the caricature style at a local theme park, he went out on his own as a freelance artist, opening his own caricature stand at Station Casino Kansas City (1997-2000). After moving back to his home state of Wisconsin, Luke continued to work as a freelancer and caricature artist, both for parties and individual orders via the internet. (luke.ski/caricatures) Later when he moved to the Chicago area, he could often be found drawing caricatures at his stand at such area attractions as the indoor waterpark resort Key Lime Cove (2008 to 2012) and downtown at the world famous Ed Debevic's restaurant (2005 to 2015).
Luke recently spent 3 years working at Cartoon Network as a Storyboard Artist on the comedy/action show "Mighty MagiSwords", where as well as writing the jokes and drawing the gags of the series, he also got to be a voice actor and play a few of the characters, such as Skullivan the skeleton man, Docky Boardman the sailor, Cattus the nomadic cat warrior, and many others. Luke is currently looking for a Storyboarding position on other animated TV shows produced in the Burbank / L.A. area. His Storyboarding work can be seen at http://www.luke.ski . "Mighty MagiSwords" can be seen on Hulu, Amazon, iTunes, GooglePlay, and YouTube.
Luke is a pop-culture junkie, staying on top of the popular movies, TV shows, video games, and cartoons people love, and he LOVES incorporating those things into his full-body caricatures.
His other hobbies include making comedy music for the legendary (formerly radio) streaming internet audio program "The Dr. Demento Show"! He has performed his act at sci-fi conventions and other eclectic venues all across the country. You can hear his nerdy funny tunes at http://lukeski.bandcamp.com .